Downtown, Saturday Market
Pickled NOLA
Kim and Jeremy, the pair behind Pickled NOLA's story starts like so many pickling stories do, with an abundance of cucumbers they'd grown! At the urging of family and friends who loved their pickled cucumbers, peppers, and other veggies, the Pickled NOLA business was born in March 2018. Kim and Jeremy make briny delights such as pickled carrots, onions, jalapenos, cauliflower, beets, and more-- swing by our Saturday market to try 'em out! In addition to being an integral part of the CCFM community, Jeremy and his daughter (pictured) are both Mardi Gras Indians so find them at market, or festooned in hand-beaded finery out and about this carnival season.
Pickles now available at Faubourgh Fresh Market in Old Algiers (541 Bermuda).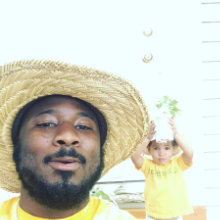 ---
Downtown

Vendors Scheduled for
Map
Our Markets
About Us
Market Umbrella is an independent nonprofit 501(c)(3), based in New Orleans, whose mission is to cultivate the field of public markets for public good. Market Umbrella has operated the Crescent City Farmers Markets (CCFM) since 1995.
The Crescent City Farmers Market operates weekly year-round in four New Orleans neighborhoods. The CCFM hosts nearly 80 local small farmers, fishers and food producers, and more than 100,000 shoppers annually.