Downtown, Saturday Market
Pickled NOLA
Kim and Jeremy, the dynamic duo behind Pickled NOLA, first bonded over the garden they started while working for a non-profit in Central City back in 2010. Over the next few years they honed their gardening skills together, and soon grew too many cucumbers to keep up with. And so began their adventures in pickling. In addition to cucumbers, Kim and Jeremy pickle local produce like carrots, cauliflower, beets, and tons more sourced from other vendors at CCFM. You can find Pickled NOLA LLC, "A Homemade Pickling Company" at our Rivertown, Bucktown, and Bywater markets, and on the CCFM app.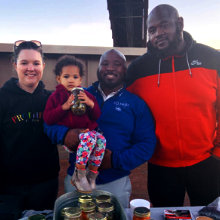 ---
Map
Our Markets
About Us
Market Umbrella is an independent nonprofit 501(c)(3), based in New Orleans, whose mission is to cultivate the field of public markets for public good. Market Umbrella has operated the Crescent City Farmers Markets (CCFM) since 1995.
The Crescent City Farmers Market operates weekly year-round in four New Orleans neighborhoods. The CCFM hosts nearly 80 local small farmers, fishers and food producers, and more than 100,000 shoppers annually.