Market Match Limit Lifted!
Unlimited Market Match, Market Umbrella's SNAP incentive program, extended through September 30, 2021!
Vendors
A&K Citrus
Aloma and Kenneth, the A and the K behind A&K Citrus, have been providing the community with juicy fruit for 50 impressive years. The pair first ventured into the citrus business in the 1970's, and have been selling goods at Crescent City Farmers Market since before Katrina. The small mom and pop farm is located in Braithwaite, LA, and yields a bounty of seasonal fruit such as satsumas, navel oranges, grapefruits, kumquats, mandarins, and more.
It is with a heavy heart that we share the news that Mr. Ken Savastano of A&K Citrus passed away late last week. Our hearts go out to Mrs. Aloma and the Savastano family during this difficult time. Mr. Ken was a beacon of knowledge in scientific discovery and environmental stewardship, not to mention a master of comedic performance. Please keep the Savastano family in your thoughts and prayers. If you would like to reach out to Aloma, please do so via email savastano@bellsouth.net
In lieu of flowers, the family has requested that memorials may be made in his honor directly to Nunez Community College Foundation for the Coastal Studies Scholarship/Savastano. Mail to 3710 Paris Rd., Chalmette, La 70043.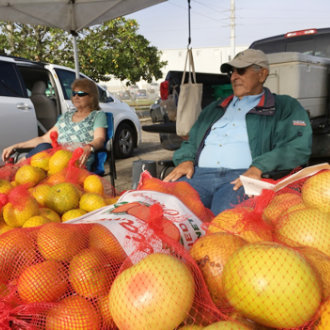 Contact: Aloma Savastano
Phone: 504-682-0392
Email: savastano@bellsouth.net
Location: Braithwaite, LA
Products: Navel oranges, blood oranges, tangelos, kumquats, grapefruits, mandarins, satsumas, and citrus trees
---
About Us
Market Umbrella is an independent nonprofit 501(c)(3), based in New Orleans, whose mission is to cultivate the field of public markets for public good. Market Umbrella has operated the Crescent City Farmers Markets (CCFM) since 1995.
The Crescent City Farmers Market operates weekly year-round throughout New Orleans. The CCFM hosts nearly 60 local small farmers, fishers, and food producers, and more than 150,000 shoppers annually.