Market Match Limit Lifted!
Unlimited Market Match, Market Umbrella's SNAP incentive program, extended through September 30, 2021!
Vendors
Fleur Dough Lis
Fleur Dough Lis is owned, operated and baked by Johnny Crosby. Johnny started baking back in 1999 and learned the trade through Foodie's Kitchen while mentoring the head baker. He took a break from the bread world for five years, but in 2010 it called him back and he's been baking ever since. Johnny joined the Crescent City Farmers Market family earlier this year and comes to market with loaves of bread baked fresh that morning. His offerings include a variety of creative flavors including challah, jalapeño cheddar, rosemary garlic scallion, loaded baked potato (including loaves with and without bacon) and our personal favorite - turtle bread, an irresistible treat with swirls of chocolate and caramel. Whatever loaf you try, you're in for something special. Find Johnny and his fresh bread at our Bywater and Ochsner markets now, and at the Bucktown market when those two go on their summer break.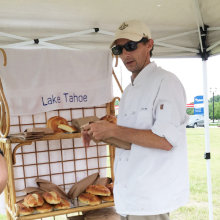 Contact: Johnny Crosby
Phone: 504-338-3206
Email: fleurdoughlis@gmail.com
Location: Metairie, LA
Products: Assorted flavored breads, Challah
---
About Us
Market Umbrella is an independent nonprofit 501(c)(3), based in New Orleans, whose mission is to cultivate the field of public markets for public good. Market Umbrella has operated the Crescent City Farmers Markets (CCFM) since 1995.
The Crescent City Farmers Market operates weekly year-round throughout New Orleans. The CCFM hosts nearly 60 local small farmers, fishers, and food producers, and more than 150,000 shoppers annually.