Market Match Limit Lifted!
Unlimited Market Match, Market Umbrella's SNAP incentive program, extended through September 30, 2021!
Vendors
Nut N Seedy
Meet Darren Smith, the man behind your favorite granola. Darren started off making granola for his own consumption. He was unsatisfied with the options on grocery store shelves, often finding them overly sweet or not sweet at all. Thus, Darren set off to create the perfect balance of sweetness to start his mornings. After discovering how much he enjoyed making granola, he began to expand his business for the consumption of others. Darren's Nut N Seedy graNOLA is made with all whole grains, and is organic and locally sourced wherever possible. The whole grains allow you to eat less, but feel fuller longer and help you get your daily fiber, protein, and other nutrients. The product is naturally gluten-free with no preservatives. Try Darren's graNOLA at our Bywater and Bucktown markets.
Currently taking orders for mail delivery - 3 bag minimum, call or email to order.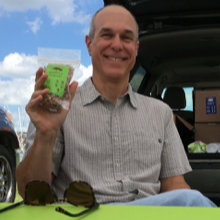 Contact: Darren Smith
Phone: 504-616-3683
Email: darren.smith@nutnseedy.com
Location: Metairie, LA
Products: Granola
---
About Us
Market Umbrella is an independent nonprofit 501(c)(3), based in New Orleans, whose mission is to cultivate the field of public markets for public good. Market Umbrella has operated the Crescent City Farmers Markets (CCFM) since 1995.
The Crescent City Farmers Market operates weekly year-round throughout New Orleans. The CCFM hosts nearly 60 local small farmers, fishers, and food producers, and more than 150,000 shoppers annually.