Market Match Limit Lifted!
Unlimited Market Match, Market Umbrella's SNAP incentive program, extended through September 30, 2021!
Vendors
B&B Farms/Indian Springs Cooperative
YIndian Springs Farmers Association has been a cornerstone vendor at our Tuesday market since CCFM's inception in 1995. And while Mr. Ben and Terrance have been regular participants at our flagship markets, you might not be as familiar with Mr. Byron Travis, the cooperative president. Cultivating and hauling in a delightful array of seasonal produce like mustards, turnips, and sweet potatoes from Petal, MS straight to CCFM's Thursday Mid-City market for your enjoyment. Always smiling, even under his mask, be sure to stop by his stall, say hi, and see what he has in store.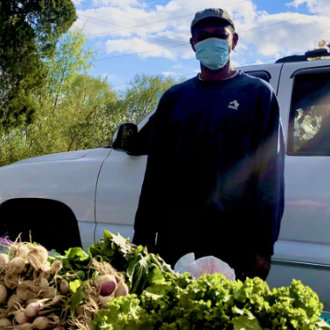 Contact: Terrance Travis
Phone: 601-297-9396
Contact: Ben Burkett
Phone: 601-310-5223
Email: benburkett601@gmail.com
Location: Petal, MS
Products: Cooperative of Mississippi farmers growing traditional Southern vegetables, herbs, watermelons, sweet potatoes, greens, root vegetables, shelled peas and beans, peanuts, tomatoes, hot peppers, and eggplant
---
About Us
Market Umbrella is an independent nonprofit 501(c)(3), based in New Orleans, whose mission is to cultivate the field of public markets for public good. Market Umbrella has operated the Crescent City Farmers Markets (CCFM) since 1995.
The Crescent City Farmers Market operates weekly year-round throughout New Orleans. The CCFM hosts nearly 60 local small farmers, fishers, and food producers, and more than 150,000 shoppers annually.