Market Match Limit Lifted!
Unlimited Market Match, Market Umbrella's SNAP incentive program, extended through September 30, 2021!
Vendors
Kinoko
Did you say vegan sushi? It might seem like an oxymoron but Thursday market vendor, Kinoko, is offering up a delightful array of sushi options using plant-based ingredients like enoki mushrooms (sourced from our friends at Mycelium Express) and jackfruit. Kelseay Reed has been rolled up in the world of sushi since age 14, working in sushi restaurants from New York City to California and even dedicating a whole year to learn about rice! This Master Chef alum, started her sushi pop-ups in NYC and then recognized the New Orleans vegan sushi niche and made her move down South. Kinoko is more than just sushi, though, collaborating with her mom to make an authentic vegan gumbo recipe to add to her selections because well, it is New Orleans.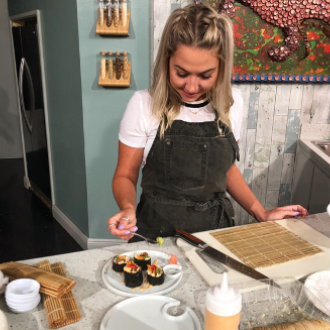 ---
About Us
Market Umbrella is an independent nonprofit 501(c)(3), based in New Orleans, whose mission is to cultivate the field of public markets for public good. Market Umbrella has operated the Crescent City Farmers Markets (CCFM) since 1995.
The Crescent City Farmers Market operates weekly year-round throughout New Orleans. The CCFM hosts nearly 60 local small farmers, fishers, and food producers, and more than 150,000 shoppers annually.