Downtown, Saturday Market
Bucktown Boil | June 24, 2019
Fresh & Local:
Bucktown Boil
The Eat Local Challenge encourages New Orleanians to eat only what is grown, caught, or foraged within 200 miles for the month of June and in so doing educate eaters about our food system. What better way to celebrate than a trip to the farmers market? At the CCFM, we are honoring the Eat Local Challenge by holding a celebration at the Bucktown Farmers Market. Join us Friday, June 28th from 3-7pm to wrap up the challenge with the Bucktown Boil!
Featuring Special Guests:
Louisiana Sea Grant soft shell crab demonstration
Louisiana Direct Seafood
Chef Dana Honn of Carmo
Audubon Nature Institute
New Orleans Eat Local Challenge
Boiled seafood by A&B Seafood
Live music performed by Seva Venet
Fish cleaning demonstration by Lance Nacio of Anna Marie Seafood
Liz Williams Book Signing - Unique Eats and Eateries of New Orleans
Precious Jewels Performance Squad dance performance
Seafood themed kids activity
Cooking demos and more!
Plus our regular seafood vendors and your favorite market goods including: Peaches, watermelon, Creole tomatoes, grass-fed beef, hand-made spice and seasoning blends, gulf shrimp, fresh gulf fish, artisan breads, granola, fresh cut flowers, flavored tofu, milk and cheese, pickles, Louisiana wine, blueberries, ice pops, fresh and prepared Italian sausage, mushrooms, seasonal veggies and more!
Check out the event here to keep up to date (and share).
If you can't make it to the boil, join us one last Saturday at the CBD market to celebrate with an "eat local" scavenger hunt for kids and a book signing with Liz Williams of her new book Unique Eats and Eateries of New Orleans.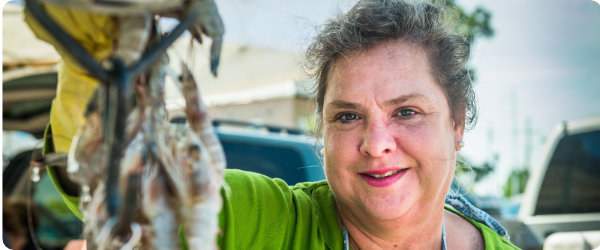 Picks of the Week:

Stop and Smell the Flowers

"Ultimately, I was not feeling comfortable with where my food was coming from. I slowly started discovering farmers markets, and being from this area and shopping at this market, I saw there wasn't enough growers. So, that's how I became interested in learning to grow food...I went and learned on farm in northern Virginia. I just looked up internships online and went and did that for a full season, about six months. I quit my job, and my partner and I left our apartment. Right when I finished, a friend of ours had just bought a property in LaPlace. He offered up the back lot of it, so I lease an acre out of that, and we rent the house next door. I had gotten a job when I got back to the area, but I quit that in July 2017 and just went all in...If people want to know where food comes from, just grow something. Even if it's just a little plant, start from there. It will give you a better understanding of what growers do to produce food and give you an idea of how difficult it is to grow food and what it means to rely on our whole food system. Just plant something."

- Ellis Douglas,
Major Acre Farm
Double Your WIC FMNP Coupons!

Each year, WIC offices distribute a limited number of Farmers Market Nutrition Program coupons. Similar to the program for seniors, these coupons come in booklets containing $20 worth of coupons to be spent like checks on fresh fruits, vegetables, and herbs with certified local farmers. This year, as part of our efforts to increase affordability of fresh, local foods for all families, we are offering to match these coupons. WIC recipients may spend their $20 coupons with our vendors and then we will provide an extra $20 in vouchers to be spent on fruits, vegetables, and herbs. Contact your local WIC office for more information, and stop by the welcome tent to pick up your $20 match now through August 31st!
Now Recruiting

In partnership with Serve Louisiana, Market Umbrella is currently recruiting for an AmeriCorps member to serve as our Program Outreach and Community Awareness Coordinator. Corps Members serve full time for 11 months starting September 1st. Benefits include a living allowance of $14,000, an education award of $6,095, health insurance, student loan forbearance, child care reimbursement, in-depth personal and professional development, and valuable networking opportunities. For more information and to apply, visit servelouisiana.org and apply by June 30th.
Vendor of the Week:

Nut N Seedy

Meet Darren Smith, the man behind your favorite granola. Darren started off making granola for his own consumption. He was unsatisfied with the options on grocery store shelves, often finding them overly sweet or not sweet at all. Thus, Darren set off to create the perfect balance of sweetness to start his mornings. After discovering how much he enjoyed making granola, he began to expand his business for the consumption of others. Darren's Nut N Seedy graNOLA is made with all whole grains, and is organic and locally sourced wherever possible. The whole grains allow you to eat less, but feel fuller longer and help you get your daily fiber, protein and other nutrients. The product is naturally gluten-free with no preservatives. Try Darren's graNOLA at our Bywater and Bucktown markets.
Tuesday's Green Plate Special:

Kinoko

Kinoko is a sushi pop up that focuses on plant-based sushi and Japanese cuisine. Chef Kelseay Dukae offers a creative and healthy take on sushi, using ingredients such as jackfruit for "sneauxcrab" for her spin on the traditional crunchy roll. Most recently, she was a contestant on the Fox Network show Masterchef, owned a health food concept and ran a sushi bar here in the city and is now back to curating pop ups. Kinoko translates to mushroom in Japanese, so expect this mushroom lover to present an interesting twist on mushrooms and sushi!
Recipe of the Week:

Eggplant Pasta Salad

Use in-season eggplant and tomatoes to whip up this easy pasta salad that's perfect for a summer picnic. Eggplant's savory texture makes it the perfect centerpiece for a meat-free meal, plus it packs a nutritional punch with high levels of fiber and vitamin B.

What's your favorite dish to make after visiting the Crescent City Farmers Market? Share your recipes with us on Instagram or Facebook or even Twitter and it might be featured in our weekly newsletter!
Downtown

Vendors Scheduled for
Map
Our Markets
About Us
Market Umbrella is an independent nonprofit 501(c)(3), based in New Orleans, whose mission is to cultivate the field of public markets for public good. Market Umbrella has operated the Crescent City Farmers Markets (CCFM) since 1995.
The Crescent City Farmers Market operates weekly year-round in four New Orleans neighborhoods. The CCFM hosts nearly 80 local small farmers, fishers and food producers, and more than 100,000 shoppers annually.