Market Match Limit Lifted!
Unlimited Market Match, Market Umbrella's SNAP incentive program, extended through September 30, 2021!
Vendors
Josey's Goods
Josey's Goods is run by husband and wife duo Gene and Lisa Josey. Based out of Lafayette, Josey's offers a variety of jams, jellies, pickles, and preserves from locally grown produce. Lisa and Gene started Josey's Goods in August of 2017. Inspired by Lisa's cajun upbringing, Josey's Goods allows Lisa and Gene to share their love of cajun culture through their company. They aim to teach the importance of supporting local farmers while demonstrating the high quality of food they provide. The highest compliment a shopper can give to Lisa and Gene is "just like my momma or grandma used to make". You can find they Josey's at our Bucktown Market every Friday - be sure to say hello!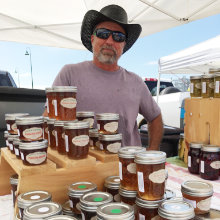 Contact: Gene Josey
Phone: 337-873-0280
Email: genegenejosey@yahoo.com
Location: Dusan, LA
Products: Seasonal jams, jellies, and pickles
---
About Us
Market Umbrella is an independent nonprofit 501(c)(3), based in New Orleans, whose mission is to cultivate the field of public markets for public good. Market Umbrella has operated the Crescent City Farmers Markets (CCFM) since 1995.
The Crescent City Farmers Market operates weekly year-round throughout New Orleans. The CCFM hosts nearly 60 local small farmers, fishers, and food producers, and more than 150,000 shoppers annually.