Market Match Limit Lifted!
Unlimited Market Match, Market Umbrella's SNAP incentive program, extended through September 30, 2021!
Vendors
The Original Grit Girl
Extremely warm welcomes to our newest Thursday, Mid-City Market vendor Grit Girl! In operation since 2000, what started as a small endeavor with friends and neighbors grew into supplying over 185 restaurants nationwide! Owner Brittany Barnes proudly offers grits and other specialty items from stone-ground Mississippi grown corn. She proudly explains nothing ever sits on the shelf, grits are milled to order and preservative-free! Grit Girls not only has grits, polenta, cornmeal, and masa, but also offers a unique take on grits by milling black-eyed peas or popcorn! Swing by, say hi to Grit Girl employee Robert, and give 'em a try!
To order, contact Robert Sweeting by phone or email.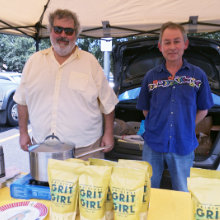 Contact: Robert Sweeting
Phone: 228-243-0100
Email: gritgirlrep@yahoo.com
Location: Oxford, MS
Products: Grits and other corn products
---
About Us
Market Umbrella is an independent nonprofit 501(c)(3), based in New Orleans, whose mission is to cultivate the field of public markets for public good. Market Umbrella has operated the Crescent City Farmers Markets (CCFM) since 1995.
The Crescent City Farmers Market operates weekly year-round throughout New Orleans. The CCFM hosts nearly 60 local small farmers, fishers, and food producers, and more than 150,000 shoppers annually.