Market Match Limit Lifted!
Unlimited Market Match, Market Umbrella's SNAP incentive program, extended through September 30, 2021!
Vendors
No Hunger NOLA
Did you know 40% of the food produced in the U.S. becomes fodder for the landfill? Did you know 1 in 5 New Orleanians faces food insecurity daily? No Hunger NOLA knows and they're doing something about it! A non-profit, culinary initiative with a mission to "eradicate hunger and food access disparities in New Orleans neighborhoods". No Hunger NOLA rescues would-be food waste to make flavorful preserves, marmalades, pickles and ferments like grapefruit marmalade, honey pickled peppers, and green chile pepper jelly. CCFM welcomes this conscientious vendor to our Mid City Market the 1st and 3rd Thursday of the month. Come on by and say hi! Pick up something yummy for yourself and help to make a difference for someone else!
No Hunger NOLA is now taking online orders for local delivery and pickup at linktr.ee/nohungernola.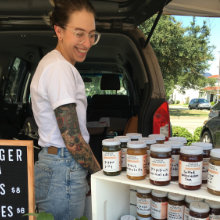 Contact: Alyssa Hernandez
Phone: 813-470-9479
Email: alyssa@nohungernola.org
Location: New Orleans, LA
Products: Pickles, jam, and other seasonal preserves
---
About Us
Market Umbrella is an independent nonprofit 501(c)(3), based in New Orleans, whose mission is to cultivate the field of public markets for public good. Market Umbrella has operated the Crescent City Farmers Markets (CCFM) since 1995.
The Crescent City Farmers Market operates weekly year-round throughout New Orleans. The CCFM hosts nearly 60 local small farmers, fishers, and food producers, and more than 150,000 shoppers annually.