Market Match Limit Lifted!
Unlimited Market Match, Market Umbrella's SNAP incentive program, extended through September 30, 2021!
Vendors
Compagnon Bakery
Compagnon is back, and buttery-er than ever. Quinn and Andrew met in a bakery on Valentine's day six years ago and have been working together since, starting Compagnon Bakery in 2018. Originally, compagnons were traveling bakers who wished to further their craft by training with different masters and sharing their learned knowledge with others along the way. These students built a community and connection to bread, and today the bakery honors that tradition by sourcing locally and regionally. Good bread is the goal, and Compagnon achieves. Their favorite? It's hard to choose, but croissants eke out a win--chocolate for Andrew, while Quinn enjoys a classic plain. Pre-order from these lovely bakers Wednesday through Friday via WhatsGood and pick up on Sunday at our City Park market.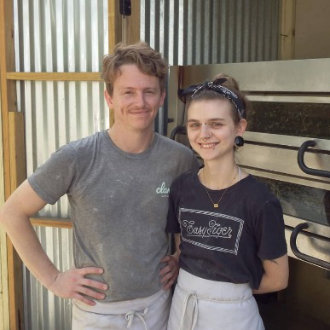 Contact: Quinn and Andrew Roth
Phone: 513-503-9297
Email: compagnon.bread@gmail.com
Location: New Orleans, LA
Products: Bread, pastries, and more
---
About Us
Market Umbrella is an independent nonprofit 501(c)(3), based in New Orleans, whose mission is to cultivate the field of public markets for public good. Market Umbrella has operated the Crescent City Farmers Markets (CCFM) since 1995.
The Crescent City Farmers Market operates weekly year-round throughout New Orleans. The CCFM hosts nearly 60 local small farmers, fishers, and food producers, and more than 150,000 shoppers annually.