Market Match Limit Lifted!
Unlimited Market Match, Market Umbrella's SNAP incentive program, extended through September 30, 2021!
Vendors
Des Allemands Outlaw Katfish
Catfish and gator lovers rejoice! Your favorite outlaw, Mrs. Jeannie is now at the Modified Tuesday Uptown market! If you're angling for crab meat, Des Allemands wild-caught catfish, or alligator meat they've got your hook-up. You don't have to troll these waters to reel in these delights of the deep, just toss your "clams" in Mrs. Jeannie's net payment system and get dividends!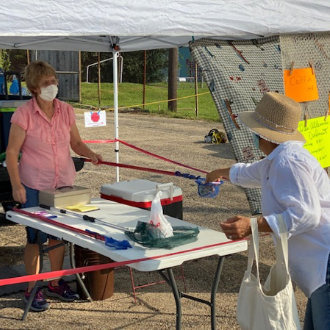 Contact: Joey and Jeannie Fonseca
Phone: 985-758-7454
Email: daokk@aol.com
Location: Des Allemands, LA
Products: Wild catfish, alligator, soft-shell crab, crabmeat, frog, crawfish, and turtle meat
---
About Us
Market Umbrella is an independent nonprofit 501(c)(3), based in New Orleans, whose mission is to cultivate the field of public markets for public good. Market Umbrella has operated the Crescent City Farmers Markets (CCFM) since 1995.
The Crescent City Farmers Market operates weekly year-round throughout New Orleans. The CCFM hosts nearly 60 local small farmers, fishers, and food producers, and more than 150,000 shoppers annually.