Market Match Limit Lifted!
Unlimited Market Match, Market Umbrella's SNAP incentive program, extended through September 30, 2021!
Vendors
Four Winds Seafood
The slow, steamy days of summer are a'prawn us. And, while we say bon voyage, for now, to some of our produce cultivators. We say ahoy to other market favorites like Mrs. Kay and Four Winds Seafood. Sailing into market with beautiful shrimp and seven generations of shrimping expertise, you're sure to get local, environmentally sustainable seafood. Wanna get your hooks into something shrimply fantastic? Find out when you can catch Four Winds at markets.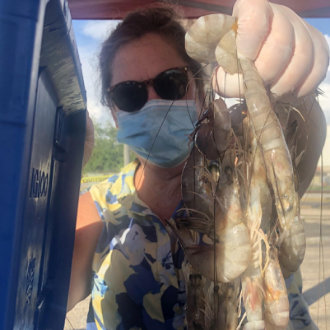 Contact: Ray and Kay Brandhurst
Phone: 504-228-8038
Email: kaybrandhurst@hotmail.com
Location: Slidell, LA
Products: Lake and Gulf shrimp, by-catch, fin fish, soft-shell shrimp, blue crabs, squid, and more
---
About Us
Market Umbrella is an independent nonprofit 501(c)(3), based in New Orleans, whose mission is to cultivate the field of public markets for public good. Market Umbrella has operated the Crescent City Farmers Markets (CCFM) since 1995.
The Crescent City Farmers Market operates weekly year-round throughout New Orleans. The CCFM hosts nearly 60 local small farmers, fishers, and food producers, and more than 150,000 shoppers annually.