Market Match Limit Lifted!
Unlimited Market Match, Market Umbrella's SNAP incentive program, extended through September 30, 2021!
Vendors
Graham's Harvest
Citrus is back and so is Graham's Harvest! Hailing from Port Sulphur, Carmela and crew with an "in nature we trust" attitude cultivate a 15-acre farm with citrus and produce. A new addition to last year's vendor lineup, Graham's Harvest is picking daily and bringing it straight to you at the Friday Bucktown market. Also in tow, is a selection of seasonal homemade marmalades, jams, and jellies. Whether fresh or canned is your jam, keep your eyes peeled for red Buffalo plaid tablecloth and gregarious Carmela. "We cater to customers as they are family to us!"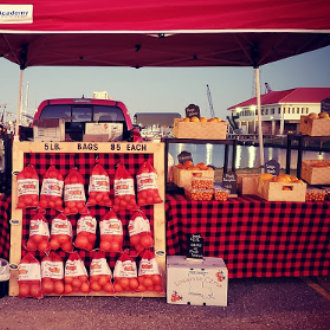 Phone: 504-510-8992
Email: info@grahamsharvest.com
---
About Us
Market Umbrella is an independent nonprofit 501(c)(3), based in New Orleans, whose mission is to cultivate the field of public markets for public good. Market Umbrella has operated the Crescent City Farmers Markets (CCFM) since 1995.
The Crescent City Farmers Market operates weekly year-round throughout New Orleans. The CCFM hosts nearly 60 local small farmers, fishers, and food producers, and more than 150,000 shoppers annually.