Market Match Limit Lifted!
Unlimited Market Match, Market Umbrella's SNAP incentive program, extended through September 30, 2021!
Vendors
Grow Dat Youth Farm
On their seven-acre site in the middle of City Park, Grow Dat Youth Farm operates a two-acre sustainable farm. In addition to growing produce, the nonprofit runs a program for youth to expand their community leadership skills while learning about sustainable farming and food justice. Stop by the Saturday market where you can buy carrots, kale, salad mixes, fresh herbs and more from the youth themselves!
Grow Dat will continue to offer their CSA. Their current season is sold out.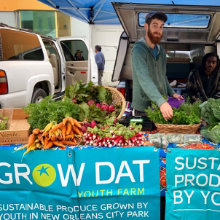 Contact: Leo Gorma
Phone: 504-616-1777
URL: growdatyouthfarm.org
Location: New Orleans, LA
Products: Fresh herbs, seasonal produce, cherry tomatoes, peppers, eggplant, summer squash, garlic, onions, greens, and more
Certified Naturally Grown
---
About Us
Market Umbrella is an independent nonprofit 501(c)(3), based in New Orleans, whose mission is to cultivate the field of public markets for public good. Market Umbrella has operated the Crescent City Farmers Markets (CCFM) since 1995.
The Crescent City Farmers Market operates weekly year-round throughout New Orleans. The CCFM hosts nearly 60 local small farmers, fishers, and food producers, and more than 150,000 shoppers annually.