Market Match Limit Lifted!
Unlimited Market Match, Market Umbrella's SNAP incentive program, extended through September 30, 2021!
Vendors
Isabel and Miguel Mendez
After a well-deserved winter hiatus, Isabel's Tamales and Produce has returned to the Sunday drive-thru market now at City Park! Beloved farmer Isabel and the Mendez family grow a variety of items on their farm in Independence, Louisiana. Look for her online offering of fresh strawberries, spring veggies, and an array of homemade tortilla chips and salsas. And of course, we give a warm welcome back to her tamales, made fresh before each market - how we have missed them!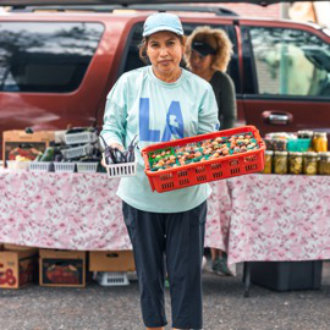 Contact: Maria Isabel and Miguel Mendez
Phone: 985-981-2622
Email: mendezmaria1064@gmail.com
Location: Independence, LA
Products: Heirloom strawberries, tomatoes, eggplant, okra, broccoli, cauliflower, cabbage, squash, cucumbers, mustard, radishes, tamales (veggie, cheese, jalapeno, and bean), red and green salsa, pico de gallo, tortilla chips, muscadine grapes, and eggs
---
About Us
Market Umbrella is an independent nonprofit 501(c)(3), based in New Orleans, whose mission is to cultivate the field of public markets for public good. Market Umbrella has operated the Crescent City Farmers Markets (CCFM) since 1995.
The Crescent City Farmers Market operates weekly year-round throughout New Orleans. The CCFM hosts nearly 60 local small farmers, fishers, and food producers, and more than 150,000 shoppers annually.