Market Match Limit Lifted!
Unlimited Market Match, Market Umbrella's SNAP incentive program, extended through September 30, 2021!
Vendors
Plume Algiers
After a two-month journey through 10 regions of India, partners Merritt Coscia and Tyler Stuart brought back what they learned there from friends and locals and put it to use here in Southeast Louisiana. With a desire to recreate the cuisine they love and bring some culinary diversity to the city, Thaili Llama was born. Using local, seasonal ingredients and scratch-cooking ideals they create their own garam masala, yoghurt and ghee to add authenticity to dishes. What started as a pop-up grew into Plume Algiers, a Westbank brick-and-mortar. You can also find Plume Algiers at our Tuesday and Thursday markets offering up housemade chai, saag, and other delights for your grab-n-go enjoyment, just follow the aroma of fresh-cooked naan to find their tent.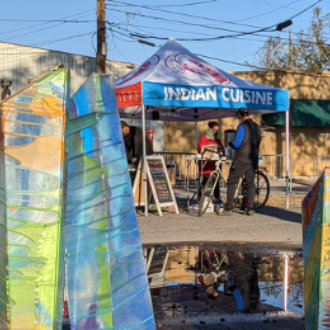 *Friendly reminder that all Crescent City Farmers Markets require masking at all times and on-site consumption is not allowed. While we want you to enjoy the deliciousness, we also want to protect our staff, vendors, and shoppers so please wait until you've left the market area to enjoy your selections. Thank you for helping us keep the community safe and healthy.*
---
About Us
Market Umbrella is an independent nonprofit 501(c)(3), based in New Orleans, whose mission is to cultivate the field of public markets for public good. Market Umbrella has operated the Crescent City Farmers Markets (CCFM) since 1995.
The Crescent City Farmers Market operates weekly year-round throughout New Orleans. The CCFM hosts nearly 60 local small farmers, fishers, and food producers, and more than 150,000 shoppers annually.