Market Match Limit Lifted!
Unlimited Market Match, Market Umbrella's SNAP incentive program, extended through September 30, 2021!
Vendors
Our Family Farm
Dan and Regina Wadsworth wanted one thing in life - to spend more time together and create the perfect farmstead. Almost a decade ago, their vision came to life on a little plot in Amite, Louisiana. Today, Our Family Farm sits upon 37 acres and is home to over 20 cows, 100 goats and lambs, seven faithful Great Pyrenees dogs, and a greenhouse housing over 30 different varieties of leafy greens. Like every family farm, the next generation is involved. Regina's son Blake has been putting on his boots and learning the ropes. These days, you can find him at the Sunday Parkway Market with hydroponic lettuce, herbs, greens, and grass-fed lamb, goat, and beef. Our Family Farm is your family farm!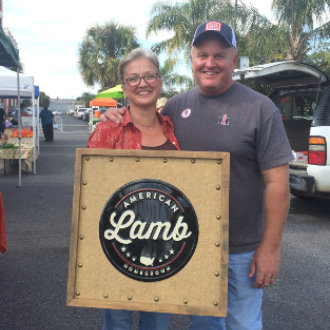 Contact: Regina Wadsworth
Phone: 985-974-1320
Email: ourfamilyfarm66@yahoo.com
Location: Amite, LA
Products: Hydroponic lettuce, microgreens, eggs, herbs, greens, pesto, lamb meat, and goat meat
---
About Us
Market Umbrella is an independent nonprofit 501(c)(3), based in New Orleans, whose mission is to cultivate the field of public markets for public good. Market Umbrella has operated the Crescent City Farmers Markets (CCFM) since 1995.
The Crescent City Farmers Market operates weekly year-round throughout New Orleans. The CCFM hosts nearly 60 local small farmers, fishers, and food producers, and more than 150,000 shoppers annually.