Market Match Limit Lifted!
Unlimited Market Match, Market Umbrella's SNAP incentive program, extended through September 30, 2021!
Vendors
Bread & Roses
Next week marks a year since Katherine Madere of Bread and Roses sold her first loaf of bread! Like many others who have been displaced during this past year, the pandemic has given Katherine the time to grow her passion in the kitchen into a successful local business. Cooking with a big family gave her an appreciation for the importance of home-cooked food, and she enjoys putting care into something that nourishes the body. You can very much taste this dedication in all of Katherine's baked goods. The name is from labor union leader Rose Schneiderman, who stated in a speech that women, specifically women workers, have a right to "...bread, but she must have roses too." Bread and Roses has become a new shopper favorite since her debut at our markets in February. Find her at the Thursday Mid-City and Sunday City Park drive-thru markets!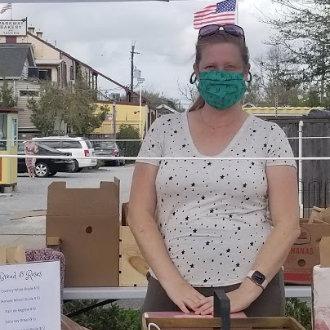 ---
About Us
Market Umbrella is an independent nonprofit 501(c)(3), based in New Orleans, whose mission is to cultivate the field of public markets for public good. Market Umbrella has operated the Crescent City Farmers Markets (CCFM) since 1995.
The Crescent City Farmers Market operates weekly year-round throughout New Orleans. The CCFM hosts nearly 60 local small farmers, fishers, and food producers, and more than 150,000 shoppers annually.