Market Match Limit Lifted!
Unlimited Market Match, Market Umbrella's SNAP incentive program, extended through September 30, 2021!
Vendors
Paul's Palate
It's "QUITTIN' TIME" for one of our beloved vendors - Paul's Palate. At the end of August, former vendor representative Paul Arceneaux and his homemade pestos and soups - often made with produce he grew himself - will be retiring after 20 years. Don't miss your chance to say a distanced and masked goodbye to Paul! Paul will be at the Tuesday, Uptown market through August 25th. We will surely miss his famous cheese logs, early morning coffee shakes, camaraderie, and commitment to the Crescent City Farmers Market. Live long and prosper, Paul!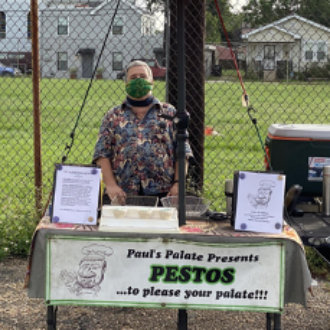 Contact: Paul Arceneaux
Phone: 504-834-1757
Email: paul@webdsi.com
Location: Metairie, LA
Products: Fresh pesto and soups made with local ingredients
---
About Us
Market Umbrella is an independent nonprofit 501(c)(3), based in New Orleans, whose mission is to cultivate the field of public markets for public good. Market Umbrella has operated the Crescent City Farmers Markets (CCFM) since 1995.
The Crescent City Farmers Market operates weekly year-round throughout New Orleans. The CCFM hosts nearly 60 local small farmers, fishers, and food producers, and more than 150,000 shoppers annually.