Market Match Limit Lifted!
Unlimited Market Match, Market Umbrella's SNAP incentive program, extended through September 30, 2021!
Vendors
Schmelly's Dirt Farm
Started in 2014 by Nicola Krebill as part of Hollygrove Market and Farm, Schmelly's Dirt Farm is a collaborative effort between six workers to bring viable soil to local Louisiana growers. Nicola has always worked with food and farmers and knows the soil in Louisiana can be difficult to control. Originally a compost collection company, Schmelly's began by gathering food scraps from restaurants and grocery stores and distributing their compost to big buyers. Their arrival to the market on Thursdays has allowed for smaller bagging quantities, which means the rich compost is available for your personal garden at home! The goal is to encourage a local and sustainable lifestyle, so bring your extra food scraps to turn in when visiting the market--and if you need tips on how to start composting at home, Schmelly's is here to help.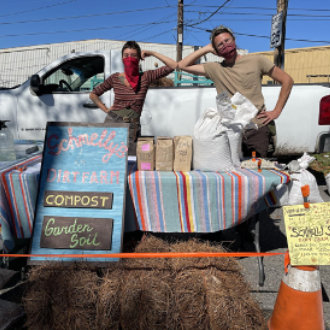 Products: Compost, Garden Soil
---
About Us
Market Umbrella is an independent nonprofit 501(c)(3), based in New Orleans, whose mission is to cultivate the field of public markets for public good. Market Umbrella has operated the Crescent City Farmers Markets (CCFM) since 1995.
The Crescent City Farmers Market operates weekly year-round throughout New Orleans. The CCFM hosts nearly 60 local small farmers, fishers, and food producers, and more than 150,000 shoppers annually.