Market Match Limit Lifted!
Unlimited Market Match, Market Umbrella's SNAP incentive program, extended through September 30, 2021!
Vendors
Molly Fay Flower Farm
Molly Fay is a self-described "third-generation flower lover." Named after her great grandmother and great aunt Frances (Fay), both wonderful gardeners and lovers of all things beautiful, Molly Fay began her flower farm on the northshore three years ago after graduating with majors in ecology and biodiversity. It was a one-man show for a bit until her mother René stepped in to help out. Today they are three strong and are continually growing and thriving as Molly Fay herself is headed to Denver to continue her education and pursue an MBA in sustainability. No need to worry, though. You can still enjoy her lovely blooms on Tuesdays starting tomorrow and Thursdays at the SPROUT NOLA table, along with other bouquets from the NOLA Flower Collective.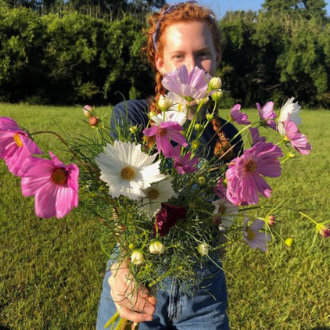 ---
About Us
Market Umbrella is an independent nonprofit 501(c)(3), based in New Orleans, whose mission is to cultivate the field of public markets for public good. Market Umbrella has operated the Crescent City Farmers Markets (CCFM) since 1995.
The Crescent City Farmers Market operates weekly year-round throughout New Orleans. The CCFM hosts nearly 60 local small farmers, fishers, and food producers, and more than 150,000 shoppers annually.