Market Match Limit Lifted!
Unlimited Market Match, Market Umbrella's SNAP incentive program, extended through December 31, 2021!
Vendors
Crescent City Cultures
It's been a little over a year since Cameron of Crescent City Cultures popped into market with his fresh and unique vegan products. Tempeh was the catalyst launching Cameron into the fermenting business. Unable to find quality, unpasteurized tempeh from the store, he tried out an at-home version - and it was a hit! "Eat more fermented stuff!" he laughs, and offers an array of cultured butters, flavored salts, and even a soy-free tempeh because, why not? If you want to give tempeh a try but have no idea where to start, C's got your back. Tempeh tacos are the way to go each time! Slice up and pan fry your block, leaving it to cool while you sautee and season veggies. After adding those to your tortilla, crumble the tempeh on top for some varying texture and flavor.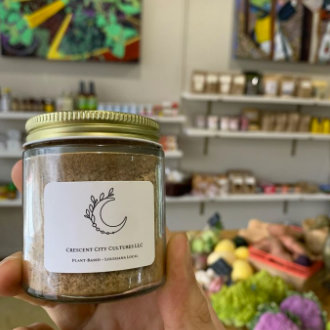 ---
About Us
Market Umbrella is an independent nonprofit 501(c)(3), based in New Orleans, whose mission is to cultivate the field of public markets for public good. Market Umbrella has operated the Crescent City Farmers Markets (CCFM) since 1995.
The Crescent City Farmers Market operates weekly year-round throughout New Orleans. The CCFM hosts nearly 60 local small farmers, fishers, and food producers, and more than 150,000 shoppers annually.