Market Match Limit Lifted!
Unlimited Market Match, Market Umbrella's SNAP incentive program, extended through September 30, 2021!
Vendors
Spicy Lady LLC
If you ever need the perfect spice mix or high-quality seasoning, we know the place to go. Cheryl, the Spicy Lady herself, has been selling spices with CCFM for about 4 years. All of her spices are non-GMO, salt-free, sugar-free and gluten-free. In addition to spices, you'll find infused olive oils, flavored chocolates and dips, and the occasional keto-friendly dessert at this vendor's stand. You can catch Spicy Lady or her son, Chris (Spicy Boy) at our Uptown, Bucktown, and Downtown markets.
Delivery is available within the Greater New Orleans Area for orders of $20 and over on Tuesdays, Thursdays, and Saturdays. Please contact Savannah at 504-250-7361.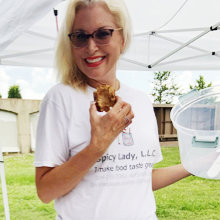 Contact: Cheryl Gross
Phone: 504-250-7361
Email: spicyladyseasonings@gmail.com
URL: spicylady.org
Location: New Orleans, LA
Products: Spice/herb mixes, seasoned salt, herb-infused oils, and chocolate
---
About Us
Market Umbrella is an independent nonprofit 501(c)(3), based in New Orleans, whose mission is to cultivate the field of public markets for public good. Market Umbrella has operated the Crescent City Farmers Markets (CCFM) since 1995.
The Crescent City Farmers Market operates weekly year-round throughout New Orleans. The CCFM hosts nearly 60 local small farmers, fishers, and food producers, and more than 150,000 shoppers annually.