Downtown, Saturday Market
Paella NOLA
Paella NOLA will be heating things up at the GPS tent at the Tuesday market one last time in February for… PAELLA! Paella is a traditional rice dish from the Valencia region of Spain. With the freshest New Orleans seafood and other local ingredients, Jacob and his team will bring this dish to life every Tuesday for your brunch, lunch, and dinner needs. Vegetarian? No prob. Paella NOLA is making a special veg pan just for the GPS. Come hungry. You can also find Paella NOLA at the Friday Bucktown market if you just can't get enough!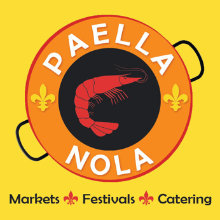 ---
Map
Our Markets
About Us
Market Umbrella is an independent nonprofit 501(c)(3), based in New Orleans, whose mission is to cultivate the field of public markets for public good. Market Umbrella has operated the Crescent City Farmers Markets (CCFM) since 1995.
The Crescent City Farmers Market operates weekly year-round in four New Orleans neighborhoods. The CCFM hosts nearly 80 local small farmers, fishers and food producers, and more than 100,000 shoppers annually.