Uptown, Tuesday Market
Next Market: November 3, 2020
8 am to 12 pm
Uptown Square
200 Broadway Street at the River
We are excited to host weekly, modified walk up markets with safety precautions in place on Tuesdays from 8 am – noon at Uptown Square.
Customers can expect:
Vendors: To be widely spaced and enforce social distancing at their stalls, wear masks, and not offer samples. For onsite purchases, vendors will accept cash (exact change encouraged) and contactless e-payment through services like Venmo. Vendors will also accept CCFM tokens which can be purchased at the welcome tent with credit, debit, and SNAP cards. Pre-ordering is also available from Friday through Sunday at WhatsGood (farmers market preorder platform).
Market Staff: To wear and offer masks, no beverages or music, provide sanitizing stations, sell tokens and sanitize the keypad after each transaction, ensure limited capacity within the market.
Shoppers: Will be required to wear masks (free masks will be available for individuals in need), leave pets at home, limit group size to two, shop quickly, and limit socializing.
Market Umbrella will continue to implement fresh food incentive programs such as Market Match, which doubles SNAP dollars spent at market up to $20 per day for the purchase of fresh fruits and vegetables. Certified market vendors will also accept Farmers Market Nutrition Program vouchers for both seniors and WIC participants.
We look forward to this return to a new normal. Please note, many of our vendors and shoppers are in a higher risk category for complications from Covid-19. We appreciate your cooperation in keeping these community members safe.
Directions and Parking Tips
The Tuesday Market is located Uptown near the Mississippi River levee at Tulane University Square (originally known Uptown Square). Find us in the northeast corner of the parking lot between Leake Avenue and Broadway Street. There's plenty of free onsite parking.
From I-10
From I-10/Pontchartrain Expressway, take the South Carrollton exit. If you're coming from Metairie, the ramp will merge with South Carrollton heading toward the Mississippi River; if driving from Downtown or New Orleans East, turn left at the first traffic signal (Palmetto Street) then right at South Carrollton. Go 2.2 miles to the end of South Carrollton and turn left on Leake Avenue. With the levee on your right, continue 0.8 miles; the Market will be in the parking lot to your left, just before Leake meets Broadway.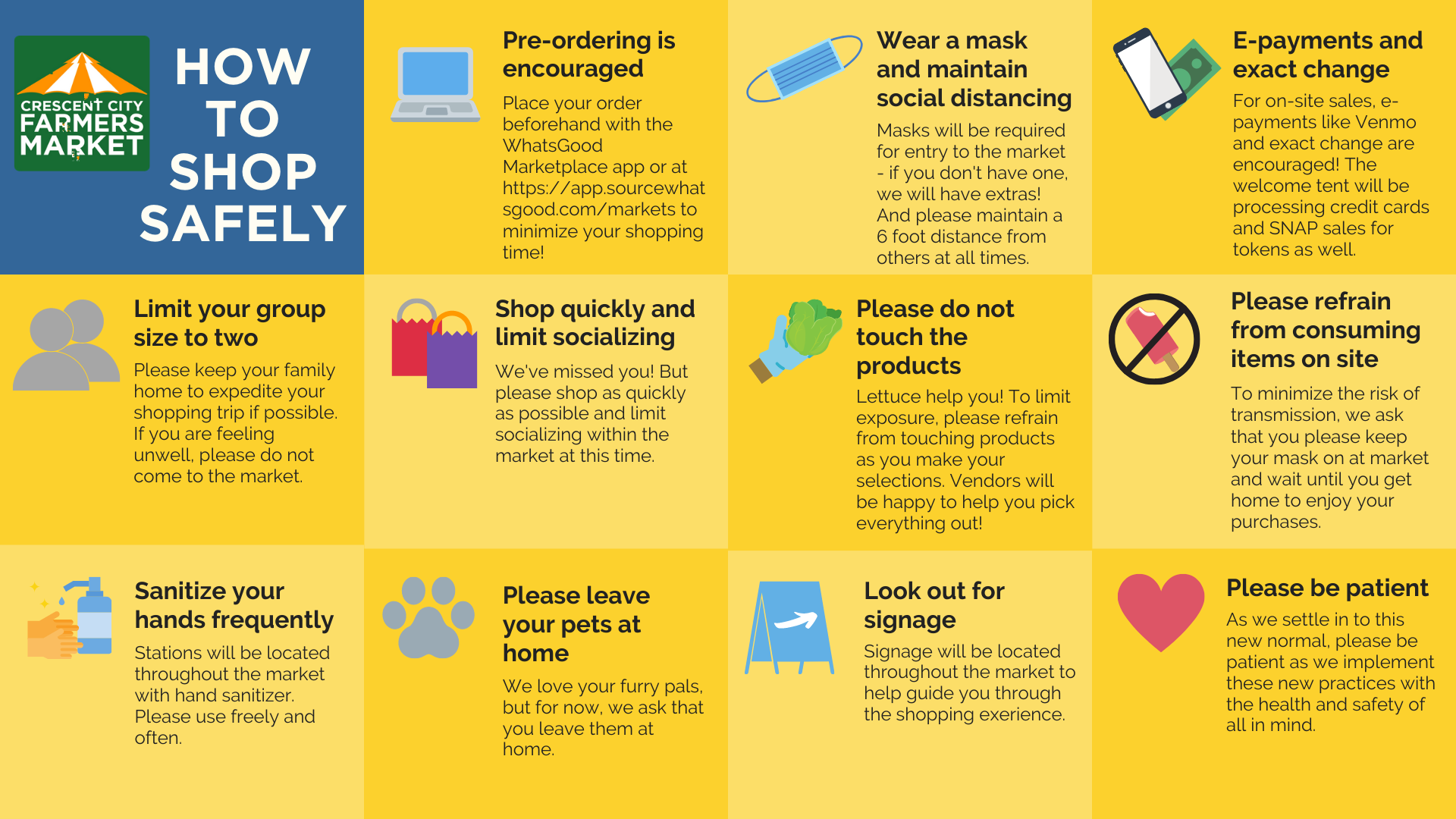 Uptown

Vendors Scheduled for October 13, 2020
Amanda's Frozen Fruit Specialties
Des Allemands Outlaw Katfish
DG Foods
Four Winds Seafood
Huckleberry Fred Creamery
Indian Springs Farmers Association
LA Serendipity Vineyards
Leo's Bread
L'Hoste Citrus
Major Acre Farm
Mizell Farm
Pete & Clara's Seafood
Poche Family Farm
Powers BeeKeepers
Screaming Oaks Mushroom Farm
Star Nursery
Suzie Q Knife Sharpening
Tomott's Cajun Farm
Map
Our Markets
About Us
Market Umbrella is an independent nonprofit 501(c)(3), based in New Orleans, whose mission is to cultivate the field of public markets for public good. Market Umbrella has operated the Crescent City Farmers Markets (CCFM) since 1995.
The Crescent City Farmers Market operates weekly year-round in four New Orleans neighborhoods. The CCFM hosts nearly 80 local small farmers, fishers and food producers, and more than 100,000 shoppers annually.