Market Match Limit Lifted!
Unlimited Market Match, Market Umbrella's SNAP incentive program, extended through September 30, 2021!
Vendors
Leo's Bread
Kate Heller first learned the art of baking in a small town in Maine and began by baking bread and pizzas for fun at home. She opened a bakery in Lompoc, California before moving to New Orleans in 2014. She brought her love of baking here, and we are so happy she did! Once slinging the flakiest croissants out of her trunk at the Mid-City market, Kate is a trailblazer. You can now find her or her helper Nelly at the Tuesday market Uptown and the Saturday market Downtown with focaccia, bagels, donuts, fresh-baked whole loaves and limited king cakes.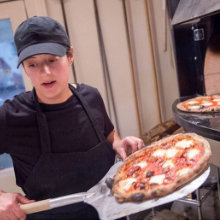 Leo's will be delivering their fresh baked treats on Tuesdays & Saturdays! Follow them on Instagram to see menus and email or DM orders by 6pm the day before. $10 order minimum, Venmo for payment.
Email: hello@leosbread.com
Instagram: Leo's Bread
---
About Us
Market Umbrella is an independent nonprofit 501(c)(3), based in New Orleans, whose mission is to cultivate the field of public markets for public good. Market Umbrella has operated the Crescent City Farmers Markets (CCFM) since 1995.
The Crescent City Farmers Market operates weekly year-round throughout New Orleans. The CCFM hosts nearly 60 local small farmers, fishers, and food producers, and more than 150,000 shoppers annually.