Market Match Limit Lifted!
Unlimited Market Match, Market Umbrella's SNAP incentive program, extended through September 30, 2021!
Vendors
Pete & Clara's Seafood
Pete & Clara's Seafood is everything beautiful about the Crescent City Farmers Market: a family in white boots that know the waters and the community they feed alike. The Gericas have been with the market since its inception and, as many of you know, Clara Gerica passed away on September 11th, 2017, forever leaving a void in our hearts. The Gericas have always been and will remain, a fundamental pillar in the growth and stability of our market. Clara was a friend to all and always had the best interests for others in mind, making her a great vendor representative at CCFM and advocate within the local fishing industry. The Gerica family is in our thoughts this week as we reflect on the legacy that Clara left behind. Pete and daughter Chris Gerica thrive on at the Tuesday Uptown and Sunday Parkway markets.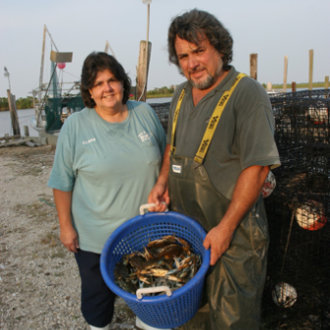 Contact: Christina and Pete Gerica
Phone: 504-669-4379
Email: peteandclarassfd@aol.com
Location: New Orleans, LA
Products: Lake shrimp, by-catch, fin fish, wild catfish, soft-shell crab, crabmeat, seabream, drum, and more
---
About Us
Market Umbrella is an independent nonprofit 501(c)(3), based in New Orleans, whose mission is to cultivate the field of public markets for public good. Market Umbrella has operated the Crescent City Farmers Markets (CCFM) since 1995.
The Crescent City Farmers Market operates weekly year-round throughout New Orleans. The CCFM hosts nearly 60 local small farmers, fishers, and food producers, and more than 150,000 shoppers annually.