Market Match Limit Lifted!
Unlimited Market Match, Market Umbrella's SNAP incentive program, extended through September 30, 2021!
Vendors
Perilloux Farm
Speaking of onions, y'all remember Timmy Perilloux? Our beloved St. Charles Parish farmer with the big truck and even bigger veggies hails from the good ole River Parishes in Montz, Louisiana, right outside of the Bonnet Carre Spillway, nestled in the land of rich alluvial soil across from the Mississippi River. If you are wondering why you haven't seen Mr. Timmy at markets, it's because he is a CCFM Box regular! Almost every week you can find his large veggies, including green onions, in the box!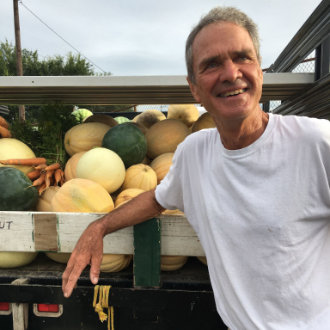 Call and leave a message to place an order for farm pick up, no minimum.
Contact: Timmy Perilloux
Phone: 985-652-3672
Email: pumpkinpatchlady@yahoo.com
Location: Montz, LA
Products: Carrots, beets, cabbage, broccoli, cauliflower, spinach, bok choy, kohlrabi, parsley, melons, corn, eggplant, kale, head lettuce, onions, peppers, and potatoes
---
About Us
Market Umbrella is an independent nonprofit 501(c)(3), based in New Orleans, whose mission is to cultivate the field of public markets for public good. Market Umbrella has operated the Crescent City Farmers Markets (CCFM) since 1995.
The Crescent City Farmers Market operates weekly year-round throughout New Orleans. The CCFM hosts nearly 60 local small farmers, fishers, and food producers, and more than 150,000 shoppers annually.