Market Match Limit Lifted!
Unlimited Market Match, Market Umbrella's SNAP incentive program, extended through September 30, 2021!
Vendors
Monica's Okra World
Tuesday market regular and anchor produce vendor Monica's Okra World have been with CCFM since our beginnings. Christine and Jess can usually be found under the red tent on Tuesdays but did you know there are more of the Monica clan vending at our markets? Sam Monica and his partner Miranda Wille are regular vendors at the Friday Bucktown market and an anchor produce vendor for our newly reopened Mid-City market on Thursdays. Friendly and knowledgeable, their tables are packed with a variety of beautiful produce like tender field greens, cabbage, cauliflower, green onions, and whatever else may be in season.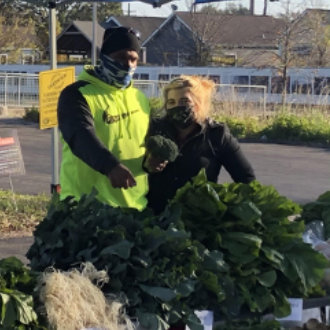 Contact: Ronald and Christine Monica
Phone: 985-535-2570
Location: Garyville, LA
Products: Okra, tomatoes, salad greens, kale, mustard greens, collard greens, peppers, squash, edible flowers, herbs, carrots, beets, turnips, and new potatoes
---
About Us
Market Umbrella is an independent nonprofit 501(c)(3), based in New Orleans, whose mission is to cultivate the field of public markets for public good. Market Umbrella has operated the Crescent City Farmers Markets (CCFM) since 1995.
The Crescent City Farmers Market operates weekly year-round throughout New Orleans. The CCFM hosts nearly 60 local small farmers, fishers, and food producers, and more than 150,000 shoppers annually.