Market Match Limit Lifted!
Unlimited Market Match, Market Umbrella's SNAP incentive program, extended through September 30, 2021!
Vendors
Figue Envie
Lilly Jane AKA Figue Envie is making their annual market appearance! Mandy and Byron met while serving in Mali as agricultural volunteers in the Peace Corp. Now the husband and wife are teachers in New Orleans, but they spend their summer vacations connecting with their farming roots. After tending to fig trees on family land since 2006, they purchased a new plot which has allowed them to quadruple their production. Be sure to try their fresh figs and delicious preserves before the short and sweet fig season comes to close! Figue Envie will be at both the Parkway and Bucktown drive-thru markets until they run out!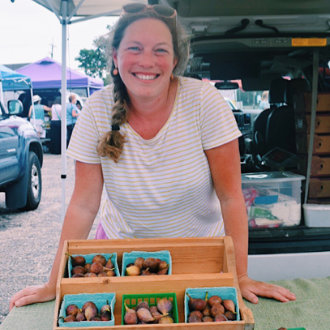 Contact: Mandy Lilly
Phone: 337-831-6541
Email: iwantfigs@gmail.com
Website: Iwantfigs.com
Products: Figs and preserves
---
About Us
Market Umbrella is an independent nonprofit 501(c)(3), based in New Orleans, whose mission is to cultivate the field of public markets for public good. Market Umbrella has operated the Crescent City Farmers Markets (CCFM) since 1995.
The Crescent City Farmers Market operates weekly year-round throughout New Orleans. The CCFM hosts nearly 60 local small farmers, fishers, and food producers, and more than 150,000 shoppers annually.