Market Match Limit Lifted!
Unlimited Market Match, Market Umbrella's SNAP incentive program, extended through September 30, 2021!
Vendors
Mycelium Express
Surely by now you know these "fun-guys"! Louisiana natives Rickey and Mike are 'shroom wizards cultivating a growing selection of oyster, chestnut, lion's mane, and king trumpets. Occasionally, you can find these tasty morsels in our CCFM/Top Box Home Delivery Box or you can catch them this week at the Bucktown Drive Thru on Wednesday.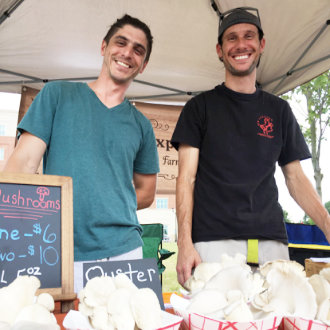 Contact: Rickey Boudreaux
Phone: 504-419-9260
Email: myceliumexpress@gmail.com
Facebook: Mycelium Express
Location: Metairie, LA
Products: Mushrooms
---
About Us
Market Umbrella is an independent nonprofit 501(c)(3), based in New Orleans, whose mission is to cultivate the field of public markets for public good. Market Umbrella has operated the Crescent City Farmers Markets (CCFM) since 1995.
The Crescent City Farmers Market operates weekly year-round throughout New Orleans. The CCFM hosts nearly 60 local small farmers, fishers, and food producers, and more than 150,000 shoppers annually.