Market Match Limit Lifted!
Unlimited Market Match, Market Umbrella's SNAP incentive program, extended through September 30, 2021!
Vendors
Sprout NOLA
More than a market vendor, Sunday Drive-Thru regular SPROUT NOLA works tirelessly to support established and developing urban farmers in the community. Providing technical and social support to build a stronger, more equipped community of growers here in New Orleans, SPROUT's unique Truck Farm Table serves as an entry to markets for small-scale farmers and producers to sell their goods and retain their profits. The Truck Farm Table, manned by SPROUT at the CCFM, provides shared rent and table space to very small producers who might not have the volume of product to fill a whole market stall or finances to foot the whole bill or have enough time on hand to attend markets thereby reducing barriers to entering the market. SPROUT's Refresh Farmers Market which recently moved to the Lafitte Greenway and their Truck Farm Table are often the first step for growers hoping to scale up, and SPROUT supports the development of small and/or new producers to graduate to their own vendor stall within the CCFM markets and on to CSAs or wholesale to our restaurant shoppers or local distributors. The small growers of today are tomorrow's anchor produce vendors. Together, SPROUT and CCFM are helping to support small growers and create a pipeline to success!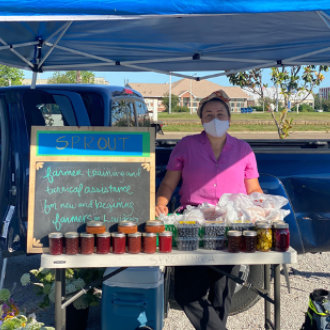 Find products from the Truck Farm in the Crescent City Farmers Market Box on the Top Box website. Order for home delivery starting 3/24/20. The Truck Farm also aggregates flowers. If you are interested in purchasing flowers please contact Margee directly at 985-373-6188 or margee@sproutnola.org
Contact: Marguerite Green
Email: margee@sproutnola.org
Location: New Orleans, LA
Products: Fresh-cut flowers and seasonal produce, eggs
---
About Us
Market Umbrella is an independent nonprofit 501(c)(3), based in New Orleans, whose mission is to cultivate the field of public markets for public good. Market Umbrella has operated the Crescent City Farmers Markets (CCFM) since 1995.
The Crescent City Farmers Market operates weekly year-round throughout New Orleans. The CCFM hosts nearly 60 local small farmers, fishers, and food producers, and more than 150,000 shoppers annually.