Market Match Limit Lifted!
Unlimited Market Match, Market Umbrella's SNAP incentive program, extended through September 30, 2021!
Vendors
Honest Foods Company
Let's "bee" honest, smaller batches mean better bread baked with quality ingredients (and lots of love). Irinia K., founder of Honest Foods Company, believes bread is the soul of every meal and it shows in her breads and scones. This masterful baker uses only unbleached, unbromated flour to create the foundation for her doughs and finds the rest of the ingredients she "kneads" sourcing from CCFM vendors. She only uses her hubby's honey to sweeten her crusty creations and offers both vegan and plant-based options. Find Irina and Vlad, the avid apiculturists, at both our drive thrus and her loaves make a regular appearance in our home delivery box.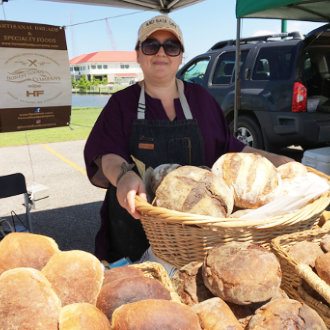 Contact: Irina Kagan
Phone: 504-867-6699
Email: honestfoodscompany@gmail.com
Location: Mandeville, LA
Products: Artisan bread baked with local, seasonal ingredients
---
About Us
Market Umbrella is an independent nonprofit 501(c)(3), based in New Orleans, whose mission is to cultivate the field of public markets for public good. Market Umbrella has operated the Crescent City Farmers Markets (CCFM) since 1995.
The Crescent City Farmers Market operates weekly year-round throughout New Orleans. The CCFM hosts nearly 60 local small farmers, fishers, and food producers, and more than 150,000 shoppers annually.