Market Match Limit Lifted!
Unlimited Market Match, Market Umbrella's SNAP incentive program, extended through September 30, 2021!
Vendors
Louisiana Gourmet Produce
The self-proclaimed Jimi Hendrix of farming is back at the market! Tony Accardo comes from a long family line of farmers in Grand Point, Louisiana, representing Louisiana Gourmet Produce. The Accardos farm on rich perique soil only found in St. James Parish, where the robust, fruity perique tobacco is grown, specializing in heirloom varieties of tomatoes, hot peppers, root vegetables, and more. Mr. Tony is having his best growing season in recent history and it shows - you can find beautiful radish, colorful carrots, ghostly pumpkins, and all sorts of rare finds, like purple broccoli, at markets now. Stop by the Tuesday Uptown and Thursday Mid-City market to meet Tony and the youngest Accardo, Kyle (pictured), and see for yourself. Purple Brussels sprouts coming soon!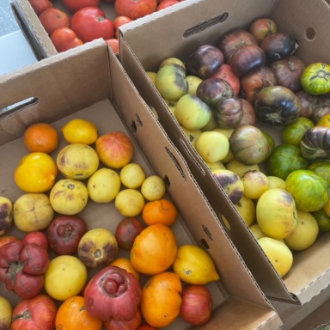 Contact: Tony Accardo
Phone: 225-869-8981
Email: louisiana_gourmet_produce@yahoo.com
Location: Paulina, LA
Products: Heirloom tomatoes, carrots, radishes, turnips, cabbage, cauliflower, bell peppers, hot peppers, melons, fava beans, and beets
---
About Us
Market Umbrella is an independent nonprofit 501(c)(3), based in New Orleans, whose mission is to cultivate the field of public markets for public good. Market Umbrella has operated the Crescent City Farmers Markets (CCFM) since 1995.
The Crescent City Farmers Market operates weekly year-round throughout New Orleans. The CCFM hosts nearly 60 local small farmers, fishers, and food producers, and more than 150,000 shoppers annually.