Market Match Limit Lifted!
Unlimited Market Match, Market Umbrella's SNAP incentive program, extended through September 30, 2021!
Vendors
Joe Fekete's Family Farm
This family-owned and operated farm grows produce right outside of Amite, Louisiana. A career educator now retired, Joe Fekete wanted to get back to his roots and reconnect with the earth. Farming has allowed him to settle into his niche: playing in the dirt. This farmer embraces the cyclical nature of the land and doesn't try to fight mother nature. By growing seasonal produce, Joe Fekete's Family Farm helps to restore balance in nature and in the local community. Joe suffered significant crop loss after the recent freeze, but is working his way back to the Tuesday market weekly and hopes to have strawberries soon!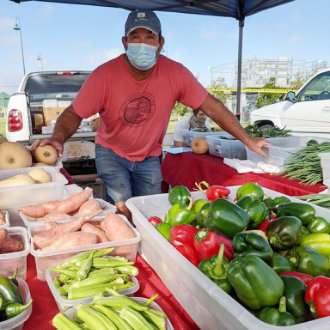 Contact: Joe Fekete
Phone: 985-517-3080
Email: jandmfekete@gmail.com
Facebook: Joe Fekete's Family Farm
---
About Us
Market Umbrella is an independent nonprofit 501(c)(3), based in New Orleans, whose mission is to cultivate the field of public markets for public good. Market Umbrella has operated the Crescent City Farmers Markets (CCFM) since 1995.
The Crescent City Farmers Market operates weekly year-round throughout New Orleans. The CCFM hosts nearly 60 local small farmers, fishers, and food producers, and more than 150,000 shoppers annually.