Market Match Limit Lifted!
Unlimited Market Match, Market Umbrella's SNAP incentive program, extended through September 30, 2021!
Vendors
Hot Plants
Ian Willson and the Hot Plants crew are BACK! If Ian's name sounds familiar, he is also known as the Dirt Nerd, a monthly contributor to Antigravity Magazine providing musings and guidance for other dirt nerds and gardeners. Hot Plants' philosophy is to raise their plant starts with "spartan love" so that the plants may "survive the slings and arrows of the Southeast with relative ease, once they are let into the world." In addition to providing market shoppers with edible, herbal, and medicinal plant startups, Hot Plants nursery also offers tips and advice on how to keep that veggie patch thriving. Hot Plants also operates a small nursery in the Upper Ninth Ward that is open most Sundays from 12-5 pm. AND, they will be joining us in December for our Mid-City reopening!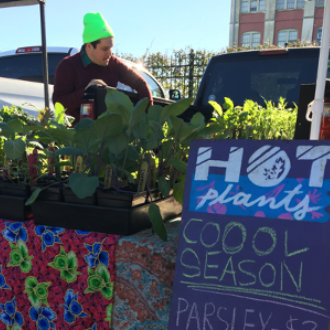 Contact: Ian Willson
Phone: 703-861-3872
Email: ian@hotplantsnursery.com
Location: New Orleans, LA
Products: Plant starts, seeds, compost
---
About Us
Market Umbrella is an independent nonprofit 501(c)(3), based in New Orleans, whose mission is to cultivate the field of public markets for public good. Market Umbrella has operated the Crescent City Farmers Markets (CCFM) since 1995.
The Crescent City Farmers Market operates weekly year-round throughout New Orleans. The CCFM hosts nearly 60 local small farmers, fishers, and food producers, and more than 150,000 shoppers annually.