Market Match Limit Lifted!
Unlimited Market Match, Market Umbrella's SNAP incentive program, extended through September 30, 2021!
Vendors
Know Dat Grow Dat
Know Dat Grow Dat, understands good health sprouts from what we put on our plate. Mike Beauchamp, a retired pharmacist, believes people can reduce disease and live longer, healthier lives through food. Specializing in microgreens, Mr. Mike uses organic techniques to cultivate nutrient-dense sprouts with aromatic flavors, making for a perfect topper to sandwich, salad, and well, just about anything else! You can find Know Dat Grow Dat offering microgreens and sprouts at our Thursday Mid-City market at the Lafitte Greenway Plaza and Sunday Drive Thru. More than microgreens, Mr. Mike is a talented saxophonist and musicophile enjoying cultivating community around healthful eating.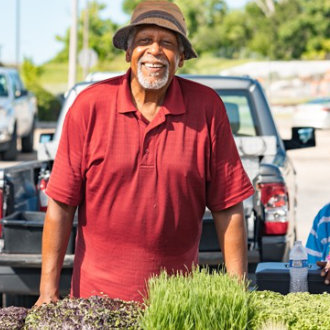 Contact: Mike Beauchamp
Phone: 504-237-6255
Email: knowdatgrowdat@gmail.com
Instagram: Know Dat Grow Dat
---
About Us
Market Umbrella is an independent nonprofit 501(c)(3), based in New Orleans, whose mission is to cultivate the field of public markets for public good. Market Umbrella has operated the Crescent City Farmers Markets (CCFM) since 1995.
The Crescent City Farmers Market operates weekly year-round throughout New Orleans. The CCFM hosts nearly 60 local small farmers, fishers, and food producers, and more than 150,000 shoppers annually.