Market Match Limit Lifted!
Unlimited Market Match, Market Umbrella's SNAP incentive program, extended through September 30, 2021!
Vendors
NOLA Flower Collective
The NOLA Flower Collective is a partnership of SPROUT NOLA and the flower farmers of the Greater New Orleans area. The collective, run by the SPROUT Truck Farm table and a rotation of their female-owned and operated flower farm growers, work together to support each other and share knowledge and passion for locally grown blooms! The collective consists of Nightshade Farm & Flowers, Fat River Farm, Molly Fay Flower Farm, Flora Narra, Baby T Rex Farms, and St Claude Flower Farm. Purchasing from the Truck Farm Table at the Thursday Mid-City (pre-ordering encouraged) and Sunday City Park drive-thru market helps our community to work together and make a bigger economic impact.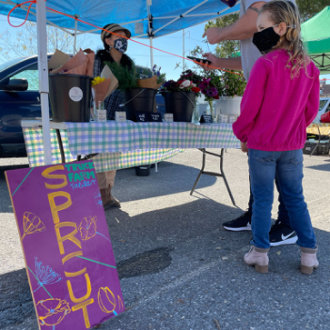 ---
About Us
Market Umbrella is an independent nonprofit 501(c)(3), based in New Orleans, whose mission is to cultivate the field of public markets for public good. Market Umbrella has operated the Crescent City Farmers Markets (CCFM) since 1995.
The Crescent City Farmers Market operates weekly year-round throughout New Orleans. The CCFM hosts nearly 60 local small farmers, fishers, and food producers, and more than 150,000 shoppers annually.