Market Match Limit Lifted!
Unlimited Market Match, Market Umbrella's SNAP incentive program, extended through September 30, 2021!
Vendors
J&D Blueberry Farm
Jeff and Don of J&D Blueberry Farm have been in the blueb business since 2004, today caring for 25 acres of the good stuff. Located in Poplarville, Mississippi, these seasonal growers have been stocking our fridge shelves year after year, everyone waiting in anticipation each spring for their return to markets. The acidic soil in southern 'Ssippi is perfect for the blueberry bushes--and surprisingly, tea! The pair expanded into growing Camellia sinensis plants, starting the operation in 2006 and finally launching their tea products in 2017. Market shoppers might remember when they offered free samples during their testing phase. Today, J&D offer a variety of jams and jellies, teas and cold drinks, as well as their blueberries and other crops like tomatoes, corn, melons, and plant starts.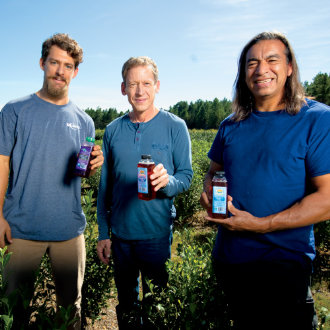 Contact: Jeff Brown and Don Vandewerken
Phone: 505-782-0779
Email: Info@JDFarms.US
URL: jdfarms.us
Location: Poplarville, MS
Products: Blueberries, dried blueberries, frozen blueberries, jams and jellies, black tea, green tea, blueberry tea, plant starts, tomatoes, corn, and melons
---
About Us
Market Umbrella is an independent nonprofit 501(c)(3), based in New Orleans, whose mission is to cultivate the field of public markets for public good. Market Umbrella has operated the Crescent City Farmers Markets (CCFM) since 1995.
The Crescent City Farmers Market operates weekly year-round throughout New Orleans. The CCFM hosts nearly 60 local small farmers, fishers, and food producers, and more than 150,000 shoppers annually.