Market Match Limit Lifted!
Unlimited Market Match, Market Umbrella's SNAP incentive program, extended through September 30, 2021!
Vendors
Peeps Farm, LLC
Peeps Farm knows one thing better than anything else - eggs! Peeps Farm has been with the market since 2015 and the Trombatores have been farming on their 25-acre land since 1983. A common misconception is that chickens are vegetarian, and a lot of the feed available is grain based or totally vegetarian. The Trombatores have approximately 500 free-range hens that spend the majority of the day grazing the farm and eating the best grub, which includes grubs, worms, and other insects, and enhances the quality and rich taste of the eggs. When Mr. Joe isn't enjoying his family and friends, you can find him at the Tuesday market shouting "EGGS!" Stop by and say hello on your next market run!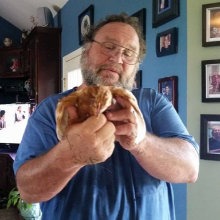 Contact: Peeps Farm
Phone: 601-590-0551
Email: peepsfarms@gmail.com
Location: Carriere, MS
Products: Non-GMO eggs, kumquats, persimmons, sugarcane, pickled okra, pickled eggs, and coconut cakes
---
About Us
Market Umbrella is an independent nonprofit 501(c)(3), based in New Orleans, whose mission is to cultivate the field of public markets for public good. Market Umbrella has operated the Crescent City Farmers Markets (CCFM) since 1995.
The Crescent City Farmers Market operates weekly year-round throughout New Orleans. The CCFM hosts nearly 60 local small farmers, fishers, and food producers, and more than 150,000 shoppers annually.