Market Match Limit Lifted!
Unlimited Market Match, Market Umbrella's SNAP incentive program, extended through September 30, 2021!
Vendors
Amorphous Gardens
Heads up, folks! After a strenuous winter season in Farmhaven, MS, Amorphous Gardens returns to our Sunday Drive-Thru market at City Park. Along with his wife and three kids, Jonathan Picarsic (pictured) has been working 16 acres of farmland for over a decade with an emphasis on natural and sustainable growing practices using no synthetic fertilizers or pesticides, or plastic mulch, which is a common row cover on conventional farms. Check out their stand for items you won't find anywhere else like scapes and verdant greens alongside fresh and cured garlic (also pictured). Jonathan left academia shortly before completing a doctoral degree in social psychology in favor of hands-in-the-dirt farm work. Glad to have you back Amorphous!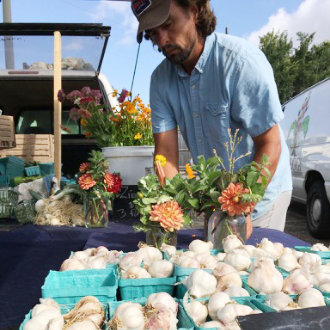 Contact: Jonathan Picarsic
Phone: 601-454-9713
Email: amorphousgardens@hotmail.com
URL: amorphousgardens.com
Location: Canton, MS
Products: Seasonal vegetables and fresh herbs, greens, potatoes, onions, garlic, ground cherries, tomatoes, okra, microgreens, flowers, wildflowers, eggplant, peppers, and more
---
About Us
Market Umbrella is an independent nonprofit 501(c)(3), based in New Orleans, whose mission is to cultivate the field of public markets for public good. Market Umbrella has operated the Crescent City Farmers Markets (CCFM) since 1995.
The Crescent City Farmers Market operates weekly year-round throughout New Orleans. The CCFM hosts nearly 60 local small farmers, fishers, and food producers, and more than 150,000 shoppers annually.