Market Match Limit Lifted!
Unlimited Market Match, Market Umbrella's SNAP incentive program, extended through September 30, 2021!
Vendors
Johndale Farm
Strawberries are back, baby!! That's right. Just in time for the holidays, Heather, the strawberry lady, has returned to markets! Celebrating their 25th anniversary at Crescent City Farmers Market (yep, with us since the beginning), Ponchatoula's Johndale Farm grows various seasonal produce in addition to several strawberry varieties, Camino real (most common), frontier, radiant, and festival (the sweetest). Find Heather and these vermilion queen-of-berries at the Tuesday Walk-Up. Whether you pick 'em up by the pint or by the flat (she has half-flats too), you'll be berry glad you did!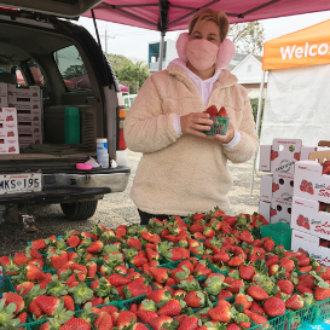 Contact: Dale and Heather Robertson
Phone: 985-969-1040
Email: johndalesfarm@charter.net
Location: Ponchatoula, LA
Products: Strawberries, tomatoes, cucumbers, greens, eggs, hulled peas, red beans, and foraged mushrooms
---
About Us
Market Umbrella is an independent nonprofit 501(c)(3), based in New Orleans, whose mission is to cultivate the field of public markets for public good. Market Umbrella has operated the Crescent City Farmers Markets (CCFM) since 1995.
The Crescent City Farmers Market operates weekly year-round throughout New Orleans. The CCFM hosts nearly 60 local small farmers, fishers, and food producers, and more than 150,000 shoppers annually.