Market Match Limit Lifted!
Unlimited Market Match, Market Umbrella's SNAP incentive program, extended through September 30, 2021!
Vendors
Terrence Travis
It's a family affair. Terrence Travis, nephew to Mr. Byron (Travis), proud papa and Indian Springs Farmers Association member is usually a regular vendor at markets but during the pandemic has turned his focus from selling at markets to aggregating for co-op members and making multiple deliveries to the New Orleans area every week. When you order the CCFM home delivery box, you're likely getting something from Terrance, or you can find his produce at the SPROUT NOLA Truck Farm table on Sundays!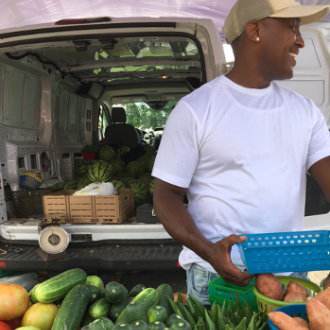 ---
About Us
Market Umbrella is an independent nonprofit 501(c)(3), based in New Orleans, whose mission is to cultivate the field of public markets for public good. Market Umbrella has operated the Crescent City Farmers Markets (CCFM) since 1995.
The Crescent City Farmers Market operates weekly year-round throughout New Orleans. The CCFM hosts nearly 60 local small farmers, fishers, and food producers, and more than 150,000 shoppers annually.