Market Match Limit Lifted!
Unlimited Market Match, Market Umbrella's SNAP incentive program, extended through September 30, 2021!
Vendors
Williams Produce
We're so happy that Lester of Williams Produce and founder of Pointe Coupee Minority Farmers Cooperative has become a regular fixture in our CCFM and Market Momma boxes. Lester has been gardening since he's been old enough to know how, but has been specializing in commercial farming since 2002. He started by growing food for his mother when she had health concerns that required a wholesome diet that he couldn't find at his local grocery stores. He grew purple hulled peas, butter beans, mustards, collards, turnips, and okra. His mother shared with her friends and community of the older generation, and soon Lester's produce became so popular that he decided to expand his operation.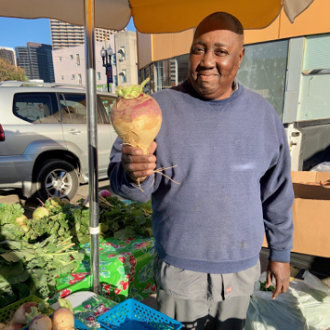 ---
About Us
Market Umbrella is an independent nonprofit 501(c)(3), based in New Orleans, whose mission is to cultivate the field of public markets for public good. Market Umbrella has operated the Crescent City Farmers Markets (CCFM) since 1995.
The Crescent City Farmers Market operates weekly year-round throughout New Orleans. The CCFM hosts nearly 60 local small farmers, fishers, and food producers, and more than 150,000 shoppers annually.